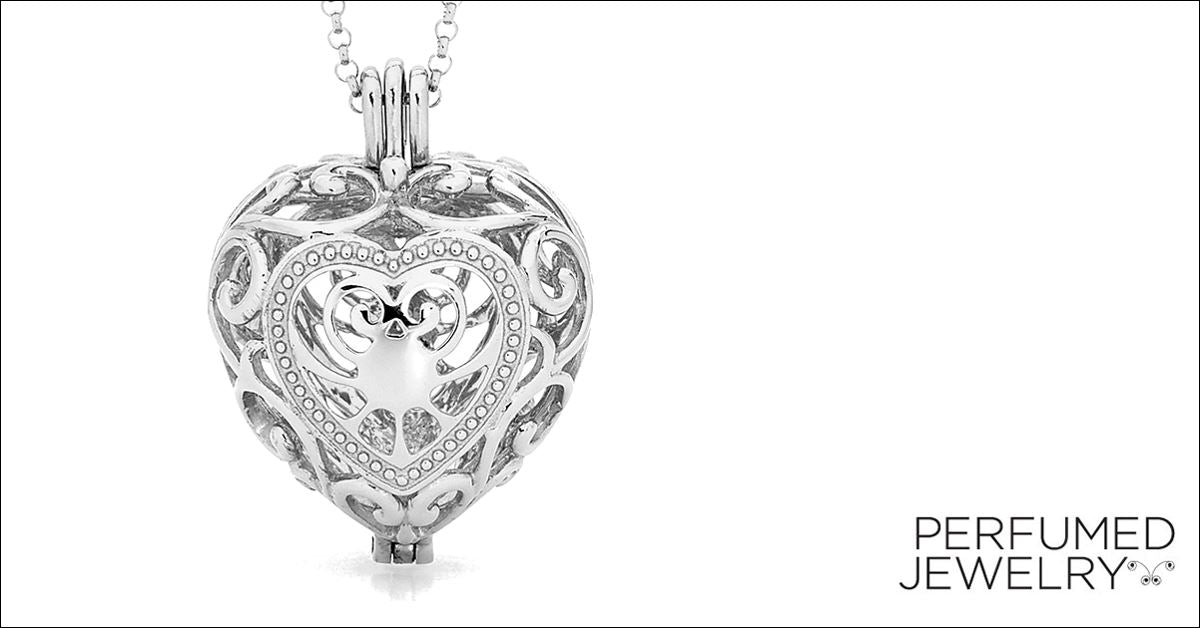 925 Sterling Silver beyond a trend by Perfumed Jewelry
Sterling Silver beyond a Trend
Selecting jewelry pieces, either for your own collection or for a gift, can be overwhelming, so many metals, even marble, gemstones and diamonds but often these trends can come and fade over time however nothing compares to the ever radiant, classic 925 Sterling Silver.  
What is 925 Sterling Silver?
Like most precious metals Silver is soft. Too soft for jewelry - meaning that offering pure Silver or 100% silver would mean that most jewelry pieces would be bent out of shape or break too quickly with general daily wear. Instead pure Silver is blended with other stronger metals like Platinum for strength. Further blending is added via Copper to serve a dual purpose of adding strength and aiding in the reduction of tarnishing.
The 925 part of Sterling Silver is actually the percentage of pure Silver to other blended metals. Jewelry cannot be marked or stamped 925 Sterling Silver without a minimum of 92.5% pure silver and the other 7.5% of the piece is the blended metals to aid strength. All Perfumed Jewelry pieces are stamped 925 Sterling Silver and we carry out extensive independent 3rd Party inspections to ensure all designs meet this and also test to ensure the absence of Nickle. Nickle can often cause skin reactions and all Perfumed Jewelry pieces are Nickle free. Our testing is carried out by literally melting the metal and testing. An expensive exercise but ensuring that all of our pieces contain only the best materials is imperative to us.
History
Sterling Silver has been sort after since as far back as the 11th Century with some of the first 'coin' style currencies being offered in Silver as early at 1275 in England. In fact, the United Kingdom currency of Great British "Pounds" reflects the historical equivalent weight of Silver i.e. 1-pound GBP = 1-pound Silver.
Sterling Silver Jewelry followed soon after as the metal-smiths ability to create objects of beauty with this valued metal quickly became beyond a trend and continues to this day.
Why is Sterling Silver jewelry a must-have today?
Affordability is often a crucial part of any jewelry purchase. In the past Sterling Silver was overlooked because of issues with allergies, tarnishing and durability however as the techniques of creating and building jewelry improve, the availability of Sterling Silver has increased offering a precious, lifetime, jewelry piece as a significantly more affordable rate than gold or white gold.
Modern trends toward white gold have also aided in the continued popularity of silver. Sterling Silver is often finished with a Rhodium finish, another metal to improve shine and luster. Rhodium is also used to finish White Gold and 100% pure White Gold can be quite dull. With both Silver and White Gold finished in Rhodium it would be impossible to tell the difference between the two without checking the genuine stamping or marking or completing a melt down and test.
Perfumed Jewelry Sterling Silver Collection
Our most popular items in the collections at Perfumed Jewelry are our original Sterling Silver pendants. Our long 32 inch, 76 cm 925 Sterling silver chain are included with each pendant piece of our unique designs were envisaged to not only be a beautiful necklace but also hold our precious Jewelstone, the heart of Perfumed Jewelry, enabling you to turn a simple necklace in to a scented necklace. Invoking precious and new memories captured that single moment in time – for a lifetime.
A Perfumed Jewelry necklace, whether for yourself or someone special is a unique way of showing; I see you, I know you, you are Loved.
Visit www.perfumedjewelry.com for more information on the World's Most Perfect Gift for Christmas 2016.