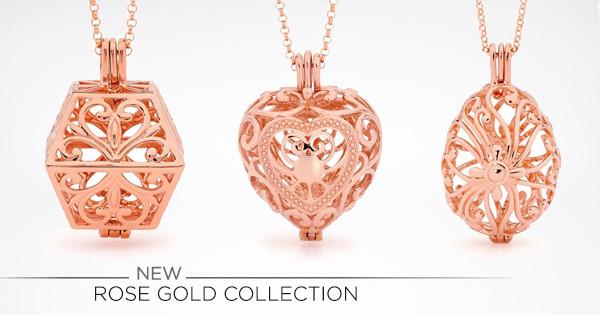 THE RISE IN POPULARITY OF ROSE GOLD JEWELRY
The revival of a classic
When browsing pieces of jewelry either online or in store, it is most common to find jewelry in two colours: yellow gold or white gold (silver). While both these colours are gorgeous for any occasion, there's a third option making a comeback - The unique but ever radiant rose gold jewelry.
What is rose gold?
Rose gold, sometimes referred to as pink or red gold (depending on the shade's intensity), is a mix between traditional yellow gold, alloyed with copper. Shades of rose gold vary, depending on the ratio of yellow gold to copper. The more copper applied, the deeper the colour of the rose gold, therefore you will end up with a softer shade of rose gold if less copper is used.
History
Rose gold jewelry has made some notable appearances throughout history, and first was during the nineteenth century in Russia, when the unfamiliar combination of copper and yellow gold was introduced. At the time it was commonly referred to as 'Russian gold', due to its popularity and fashion-appeal amongst Russians.
Rose gold jewelry was seen again during the Mid-Victorian Era, when everyone wanted their own pink-hued jewelry. Pink was seen as the colour of romance, and so a rosy blush to jewelry was the style of choice during this period of time.
However, the most recognized time period of rose gold's popularity was in the late 1920s, when renowned French jeweler, Cartier released a signature piece of jewelry called the Trinity Band. This ring was made up of three entwined smaller bands: one rose, one white and one yellow gold band linked together.
During the war period, the government banned the use of platinum amongst civilians, as it was being used for military purposes, and so rose gold's distinctive reputation continued to soar and became the common alternative for jewelry pieces. It also continued to flourish during the "Retro Era" between 1935 up until the 1950s, when yellow gold and rose gold were popular amongst the people.
During the 90s, minimalism was in, and was stylized by black and white. The fashion industry wanted modern styles, and so silver and white gold jewelry trends rose due to their crisp appearance and contemporary edge. Rose gold jewelry faded into the background and became an antique option of the past.
Why is rose gold jewelry a must-have today?
At the beginning of the twenty-first century, femininity and colour came back into the spotlight. For women who love to combine traditionalism with modernism, rose gold is the perfect medium between the two. Its soft rosy blush colour looks great on its own, but also suits being put with gemstones or diamonds.
Due to its antique roots and timeless look, rose gold jewelry bought today could easily be passed on as a precious heirloom later on down the track. The rise of blush shades in the fashion world has also spurred on the demand forrose gold jewelry to match iconic gowns made by designers all over the world. Better yet, rose gold is suitable for differing skin tones and ages which is great for women looking for unique pieces to add to their jewelry collection.  
More and more jewelry stores are coming on board with this new trend, all eager to re-introduce or debut this classic in their stores, and we are one of them! Perfumed Jewelry is excited to announce our online shop is now stocking our pendants in this radiant colour, so check back soon to add a timeless, quality piece to your own collection.